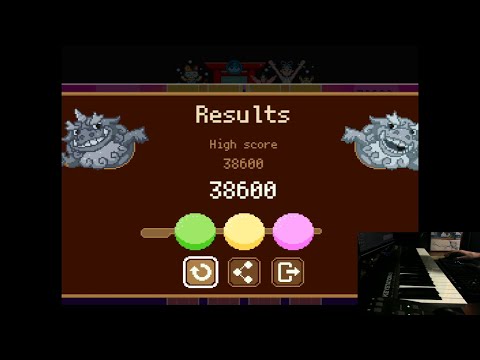 Google Doodle Champion Island Games – DDR/Artistic Swimming (Secret Song) Perfect Score (38600)
Patashu
Views: 138
Like: 3
Uploader notes:
* You access the secret song by entering the left door in the synchronized swimming school left of the first song.
* 14 minutes playtime before I got this score.
* What makes this score hard to achieve isn't that the perfect window is small (it's pretty big) or that the chart is hard (aside from the slow scroll speed it isn't). What makes it hard is that in typical amateur rhythm game fashion, it is synced EXTREMELY early (I'd guess 90-120ms early) and it's hard to lock on to. Funnily enough, my microphone recording must have been delayed by the exact perfect amount to make it sound perfectly on sync because it sounds perfect in this upload LOL.
* I didn't know I got the PFC immediately because I was looking at the receptors directly to assist my visual timing, which put the perfect/good and my score out of my peripheral vision.
* This song also slaps
I have also PFC'd the Basic Song and Boss Song: